15 minutes of fame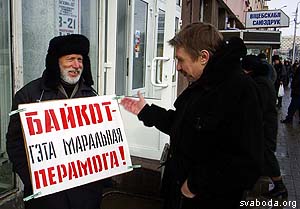 A protester in Vitsebsk calls for a boycott of the 19 March vote. His sign is written in Belarusian and says: Boycot! This is morally right. Victory!
I think it was Andy Warhol who said in commenting about out modern world that all of us will eventually receive 15 minutes of fame. In the 35 years or so since he allegedly said these words, people have taken him literally as if he were a profit and have come to expect and even to wait patiently for these fifteen minutes. But of course those on the other side, those with media access know about this and have taken it upon themselves to be rather discouraging about doling out the necessary airtime to create celebrity. They have obligations to their clients don't you see, and therefore limit that access to fame only to those who can sell soap and beer. Such is the way of the western world.
This odd thought came to me as I watched a deluge of political rhetoric on the television starting at 6:00 on last night. Actually the political rhetoric started out much earlier in the day as President Lukashenka made a long and involved speech to the All-Belarusian People's Assembly, but I will get to that in a minute. At 6:00 started the second of the opposition candidates two 15 minute free television spots and last night we got to listen to both Alexander Kozulin and Alexander Milinkevich.
Kozulin went first and I must say rather disappointed. I say this because his first 15 minutes were rather exciting because of his rather Un-Belarusian demonstrativeness in tearing up a newspaper, threatening to expose Lukashenka's marital discrepancies and so-forth. Alexander Kozulin has a round rubbery face that jumps from emotion to emotion rather quickly and gives the impression that he is mildly unhinged. So this plus his directness in attacking the president had everybody's tongue wagging last time. But this time he was more subdued, apparently saving his energy for his big move of getting himself arrested trying to get into Lukashenka's All-Belarusian People's Assembly.
Kozulin getting hauled away from the scene by knit-hatted securety
This bit of hubris was of course completely ignored here in Belarus and over-reported in the west by at least 30 newspapers by my count. According to the west, Kozulin was simply trying to register to enter the congress when the secret police assaulted him and his team and, in an orgy of police brutality, beat several western journalists and smashed their cameras so that the moment could not be captured. Then, at the jail another row ensued which included police shooting guns in the air, using batons to get the crowd's attention and even their shooting the tires out on a car attempting to flee. The west states that this is all due to Lukashenka's paranoia and proves the state's repression. Russian news however says that Kozulin was the aggressive one, making a scene about registering and when a cop asked him to calm down, Kozulin pushed the cop who then wrestled the candidate down, cuffed him and threw him into a waiting police van. Kozulin is also said to have broken a picture of the president at the jail.
Now arguably, we could say that the cops were there by Lukashenka's order and had been instructed to keep out Kozulin and/or Milinkevich, who was at this same time making use of the crowd out in the square (sources vary as to how many people showed up for his planned demonstration, but the number was probably about 1000). Or you could say that both Kozulin and/or Milinkevich planned the scene so as to use the opportunity of Lukashenka's speaking at the congress to stage a protest. Hell, you can even say that Lukashenka either planned to have his congress on this day or scheduled the television speeches so that he could use his own speech to drown out his opponent's. But in any case everybody got what they wanted and after the fun was over, the crowd peacefully went home and for all his chutzpah, Kozulin is looking at five days in jail and/or a few months of community service.
Alexander Milinkevich gestures as he speaks through a megaphone during a rally in central Minsk
But let me get back to the TV. Right after Kozulin's 15 minutes, we got to hear Alexander Milinkevich make his second presentation. I had missed his first television appearance and so this was my fist chance to hear the man speak and I will admit to being rather impressed. Milinkevich is a soft spoken man who does indeed, as was reported by the BR23 blog, have a charming Belarusian accent, shaping his Russian "L's" toward Polish "ow's" and things like this. He was very emotional during his talk and seemed close to tears in several places. He called Lukashenka's attacks on independent media unnecessary, claimed to have found European markets for Belarusian goods, said he wanted to remove the contract system from the work place, raise the amount of money for pregnant women and restore free high education. He even said he wanted to raise the pensions up to 500 euros a month. He then spoke of the disappearances and those being held in prisons for being politically oppositionist and then claimed to have an actual lead in the polls, called Lukashenka a monarch and a dictator and then asked why the president was refusing to debate him. He also assured us that victory was possible.
I was excited by his speech. I jumped up and applauded in our bedroom. I loved the use of the national language, something that is not often heard except in the villages. I thought the guy had really done the job despite the crummy one camera, blue backdrop, minimalist setting which is all that is granted the wanna-be candidates for their 15 minute spots.
The stage of the All People's congress
But as I said, these spots were on BT and what followed next was the news report of Lukashenka's speech to the People's Assembly. This complete speech was shown earlier in the day (though nothing was said about the Kozulin or Milinkevich demonstrations) and was now being highlighted for the news almost in its 90 minute entirety. And, in contrast to the dimly lit candidate's speeches, the president was shown is dazzling color against a white podium and a three dimensional representation of the Belarusian flag. The hall was packed full of Belarus' best and brightest, every seat was taken. The president received several applauses, got a few laughs and otherwise overwhelmingly got the approval of the house by reaffirming Belarus' stance as a nation independent from the west, in league with Russia and fully capable of taking care of itself. He talked of how much money the west was paying for agitation, that the young people who were taking up the job of becoming agitators would be better off serving time in the armed services and finding jobs rather than "drinking beer" and causing useless problems. He again harped on whether America's democratization of Belarus wasn't really just about imperialism and trying to dictate policy and used Afghanistan and Iraq as examples of how America's democracy really works. He spoke of how life in Belarus had been getting better and better. He was serious, strong, articulate and in the end, made one point that I thought was at the heart of the whole thing: Belarus is about work and its culture comes from the being the best people from the USSR; they are not scammers looking for a good deal, they are workers looking to get what needs to be done, done.
I was still looking at and listening to Lukashenka by about 11:00 when I finally started falling asleep. The coverage of his speech had gone on for almost 4 hours that evening on both BT and ONT. I remember that almost all of the enthusiasm I got from listening to Milinkevich had been pretty much wiped clean by endless repetitions of Lukashenka's speech. And of course, that was surly the point.
Lukashenka during his speech
But then I got to thinking about that charming Belarusian accent which Milinkevich uses. Lukashenka does not speak with much of an accent, though he actually is from the villages. People still say he does but I can't hear it. He has a perpetually horse voice, speaks articulately in absolutes and has the habit of raising his right index finger in anger to demonstrate how he feels about stupidity in the system. But he speaks only like a workaholic executive and uses crystal clear, unaccented diction to make his points. Milinkevich on the other hand is from a family of academics. He is a city boy, a scientist and an intellectual who is said to speak five languages. Why therefore is he bending those Russian "L's"?
I know that he is trying to represent an emotional attachment to the country's ethnic (Polish) heritage, but real ethnic Belarusians are actually few and far between because of the war, Stalin's shipping away dissenters and replacing them with good communists and party people from Russia and because many people flat out left for other countries. And as far as being Polish goes, well, Belarus was under the control of Lithuania and Russia historically for a whole lot more time than it was ever Polish and the Lithuanian language is actually rather more Teutonic grammatically and doesn't even have that sound. Or in other words, I stopped buying it.
My Tatyana though is sold on the man and feels he speaks to disgruntled workers sick of an oppressive system. She came home the other day with one of Milinkevich's pamphlets and said that she liked the picture of his bearded face and how his people seemed calm. I can see that he is delicate and comes from a good, intelligent family. "They all speak Belarusian." She said of Milinkevich's people. One if his guys by the way remembered her and said that he was still looking for that cable to show us that film of the police chief harassing the cameraman. She admitted that that struck her as being kind of BS but liked everything else. After reading his paper she was really excited:
Belarussian riot police block a road during a rally supporting opposition presidential candidate Alexander Milinkev
"He is really for the people. He wants to do for mothers with children and for pensioners. You don't know what it is like to work now, the way they beat you with those contracts, with words and with money. This Milinkevich knows what the people want. He understands how horrible simple people feel in their jobs. He understands that it is generally not enough money. And I like that when he talks, he asks the pensioners not to think only about their own money, but about their children's future and about how the job market is. He makes new markets in Europe and therefore there will be new jobs." She cried a bit. "And this Kozulin… he's crazy! You could see this when he was on TV."
"He just wants to make a scandal, I think" I said. She nodded and agreed. And then I thought for a bit.
So you know in the end, the whole elections boil down to a single point: Does Belarus want the west to be here or not? If you want the doors to stay closed, you vote for Lukashenka. If you want the west to come in, you take Milinkevich. This is what it has been about for 15 years and this is what it is about right now. It is as simple as that.
Andy
Tatyana and I tried to speak Belarusian for a while and neither one of us could do it very well. I said we would practice when we are out in the village. "They don't speak real Belarusian in our village. I don't know what they speak. It is not Russian, it is not Belarusian." She said.
"It's Polish and Russian Mixed. They had Polish schools here before the war."
End note: Even as I was proofing these words the guy with the camera from Milinkevich's Pinsk group knocked on the door and asked for some translations help from Tatyana. The issue seems to be their desire to speak to the OSCE observers who are here for the elections accurately (One is French and the other is Swiss), and they are not sure of the translator. We'll see how this develops. Oh, and he dropped off two copies of the now hard to find NarodnayaVolya for us to read. How is that for drama?
Stay tuned. More soon…