Brief farm report…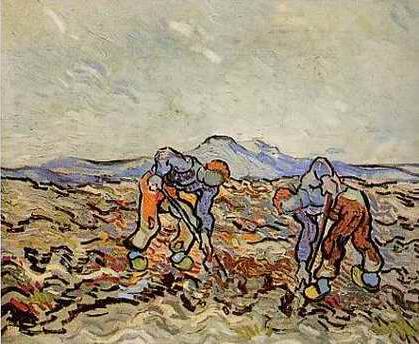 " Peasants Digging Potatoes"
By Vincent van Gogh
Dug all out potatoes today. If you have never had the pleasure of digging potatoes I suppose I could best describe it as a direct spinal torture delivered over the course of several hours. I spent the morning digging in the dirt from a duck-like squat position so we would have some potatoes to eat this winter. All I can say is that I am glad it is over. Both hands are shot from the kopachic, the sharp, three-fingered digging instrument we use to find the golden tubers, My shoulders and legs are shot as well.
Our neighbors are very good at doing potatoes and their digging days are well organized and effective. Usually at least five of them line up shoulder to shoulder and make their way down the field, filling bag after bag of large potatoes. Usually, it takes them no more than a couple of hours to cover the 100 meters or so of potatoes. They then plow, unearthing many stragglers and then they dig once more. And I answer to the obvious question; no they did not find the golf ball. Probably they just plowed it under.
This year I was on my own for potato digging and this made the going quite slow. But as I understood that finishing quickly only allows for there to be no further work, I was inspired to plow through to the end. I had originally planned to clean the strawberries as well, but that will have to wait till this Friday. The work took too long and I was way too tired to start in on another project. I actually slept through the entire bus ride back and was lucky to awaken at a bus stop which had a connection home.
I wish I had more to say today but I don't. Tomorrow I get to start in rebuilding my bike so I will be on the market early. I will try to get through the BHTimes in the evening and with luck, I will have a longer, more interesting essay out as well. And of course, I need to finish my preparations for school. I guess I will tell you al about that tomorrow.
More soon